Jean-Claude Brunner
Controller & Business Analyst
Kalvarienberggasse 71/19
A 1170 Vienna

Mobile: +43 676 726 41 42
Skype: jcbrunner
jc.brunner@gmail.com

Ich spreche Deutsch.
I speak English (C2 - CPE AAA).
Je parle français (C2).
Parlo italiano (B1/B2).
Hablo español (B1/B2).

News
Im September erscheint die deutsche Version des IIBA BABOK v3, Leitfaden zur Business-Analyse v3, für die ich die Kapitel Anforderungsanalyse und Designdefinition sowie Lösungsbewertung wie auch die Perspektiven zur Business Intelligence, Business Architecture, Informationstechnologie und Agil übersetzt habe.
A good introduction to agile programming and development is offered on Coursera: Drive to Value with Agile Methods.
Schnellere Reports verspricht Self Service Reporting in der Dezember-Ausgabe des Controller Magazins. Eine Befragung zeigt auf, dass nur ca. 20% neuer Reports in bis zu einer Stunde, 29% bis zu einem Tag und 28% bis zu einer Woche zur Verfügung stehen.
Der MIT-Einführungskurs in Supply Chain Management Supply Chain and Logistics Fundamentals I stellt die klassischen TLC-Modelle der Logistik mit vielen Rechenbeispielen vor. Derzeit läuft der zweite Teil mit dem Schwerpunkt Supply Chain Design.
Der Process Mining Kurs auf Coursera der TU Eindhoven, den ich absolviert habe, stellt nicht nur die Techniken und Möglichkeiten des Process Mining vorzüglich dar, er führt auch in die Benutzung der ProM-Software ein, die aus Daten automatisch Prozessmodelle und Performance-Analysen erstellt. Ich habe mit Begeisterung am Kurs teilgenommen und kann ihn sehr empfehlen. Der FutureLearn-ProM-Lite-Kurs hilft einem breiteren Publikum, ins Process Mining einzusteigen. FutureLearn bietet auch einen neuen Business Process Management-Kurs an.
Die Version 3.0 des Business Process Management Common Body of Knowledge - BPM CBOK: Leitfaden für das Prozessmanagement (ISBN 9783921313916) beinhaltet zwei Kapitel von mir: "Grundlagen" und "Prozessorganisation".
Die Zertifizierung zum Certified Business Analysis Professional (CBAP) der IIBA ist auch in Deutsch möglich. Ein wesentliche Voraussetzung dafür war die deutsche Übersetzung des BABOK 2.0. 7 der 9 Kapitel wurden von mir übersetzt.
In der dritten, aktualisierten Auflage des Lehrbuchs Grundzüge der Beschaffung, Produktion und Logistik (Pearson, ISBN 978-3868940930; zugehöriges Übungsbuch ISBN 978-3868940947) befasst sich der von Professor Grün und mir geschriebene Beschaffungsteil neu intensiver mit der Beschaffung von Dienstleistungen und thematisiert auch Lieferanten-Audits anhand der Tücken der Produktionsbedingungen von Apple in China (siehe dazu: Apple Supplier Responsibility). Zur Pearson Companion-Website.
Hobbies
History
Prince Archbishop Matthäus Lang and the siege of Hohensalzburg 1525 will be my next article to be published in MW VI issue 6. His suit of armor is currently on exhibit in the Salzburgmuseum and will then return to the Neue Burg in Vienna.
Too many dukes - the French commanders at Agincourt
My article about the French commanders in the fateful Agincourt campaign of 1415 was published in the magazine Medieval Warfare Agincourt Special. It includes a selection of the coat of arms of the most important French commanders.
In April 2015, my article about Charlemagne and his campaign against the Avars was published in Medieval Warfare V.2.
More history articles and topics
Favorite MOOC
China X an outstanding ten-part introduction to China and its history by Harvard that I enjoyed participating in during 2013-15 and that just kicked off in version 2.0.
Outstanding MOOC on Chinese Thought: Ancient Wisdom Meets Modern Science - Part 2, edX.
Favorite current exhibition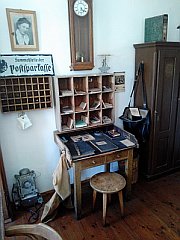 Dorfmuseum Mönchhof - Landleben im Burgenland um 1950, Mönchhof, Burgenland.
Sports
Seattle Seahawks